If you're busy sending emails to potential dates online and are frustrated with the lack of response, our friends at online dating site Zoosk have come up with some simple suggestions on how to move the process along in their "7-Step Guide to Landing a Date."
Here's a recap, along with a cool infographic to help ramp up your Internet dating life so you can meet that special someone offline.
1. Add a date activity to show someone you really do want to go on a date.
In a recent survey of 3000 of their members, Zoosk found that mentioning movies as a favorite activity in you profile and even suggesting a movie date increases your response rate to your email messages by 91%. Yes that's a big number and one worth viewing film trailers for. Other keywords included the beach (59%) and a park (39%).
2. Send emails in the morning if you're a man; in the evening if you're a woman.
Guys will increase their chances of a response by 10% if they send emails between 9am and 10am, while the best time for women to send email messages is between 10pm and 11pm. So ladies, send that flirty email and go to sleep with a smile on your face and avoid sending an email from 2pm – 3pm.
3. Respond within 24 hours.
As for when you should respond to an email, 94% of those surveyed said within 24 hours. I have to agree with this one. Remember when someone is emailing you, they're sending emails to many others at the same time. Often the squeaky wheel gets the love deal, so playing too hard to get will likely backfire.
4. Focus on what makes you unique.
If you want to stand out in a crowded digital playground, talk about your date's hair, their gorgeous eyes, fun or geeky glasses, and even their tattoo. Remember to be fun and flirty. Stay away from the sexual comments, which received a digital thumbs down from Zooskers.
One of the biggest challenges I see singles struggling with is what to write in their first email. First impressions do really matter and your email should be more than, "hey." Here are a few interesting tidbits.
5. Character count matters.
Guys didn't seem to care how long the first message was from a woman, but 40% of the women did indeed want to see a message that was longer than a full-length tweet of 140 characters.
6. Expect to send 5 emails.
Finally, how long will it take to get to the first date? About half of the singles polled said they send 5 email exchanges before putting his or her name on their date card.
7. Schedule your first date.
If you follow this plan, you should be filling up your date card and taking your relationship offline.
Wishing you much love and joy in cyberspace, or wherever you may roam. xo
Are you using any of these tips while looking for love online?
Julie Spira is America's Top Online Dating Expert and Digital Matchmaker. She was an early adopter of online dating and creates Irresistible Profiles for singles on the dating scene. For more dating advice, follow @JulieSpira on Twitter and sign up for the free Weekly Flirt Newsletter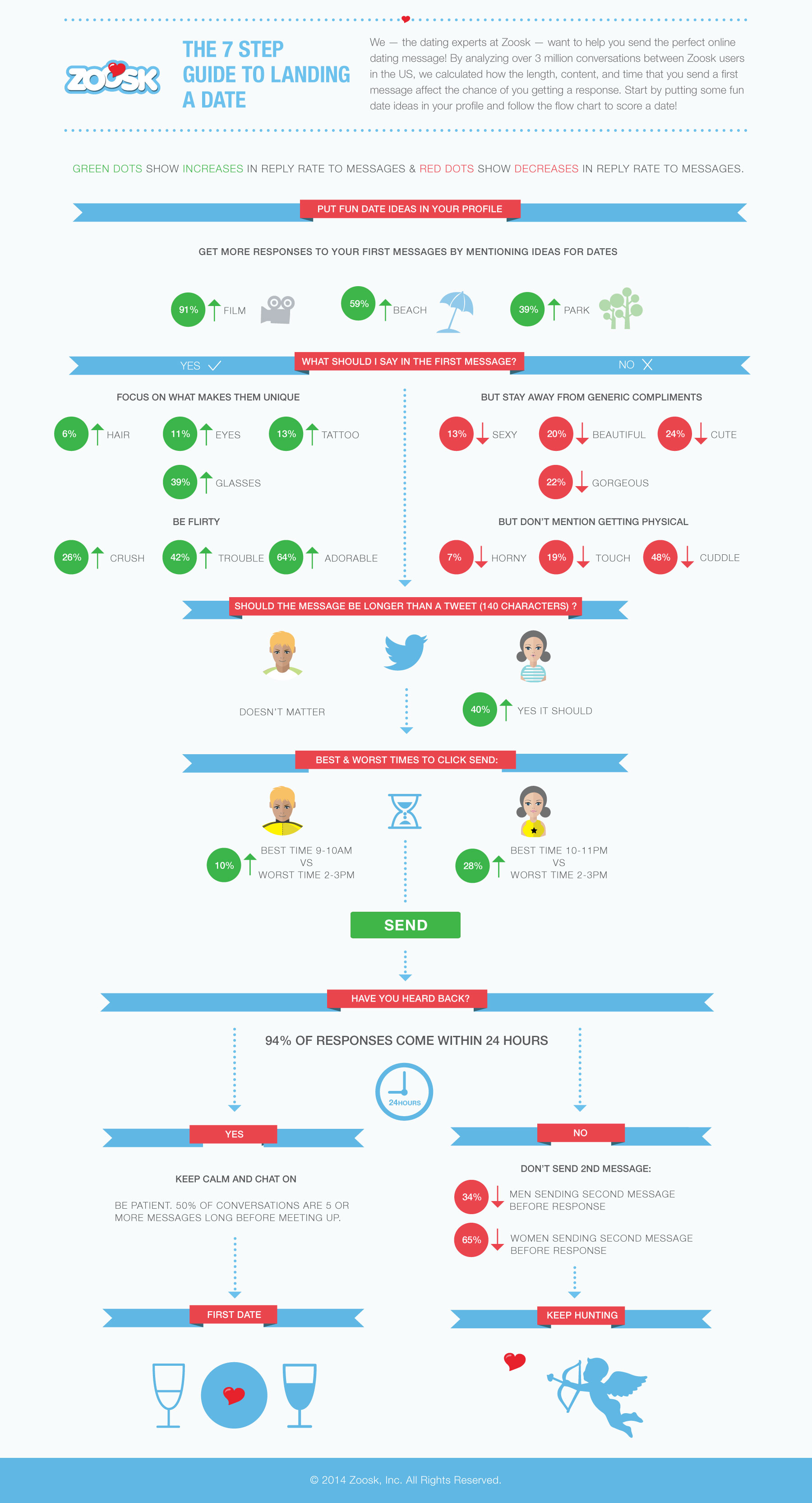 Julie Spira is America's Top Online Dating Expert. She's an award-winning dating coach who's been helping singles find love online for 25+ years. Follow @JulieSpira on IG.