Facebook is celebrating a big birthday. It's been a decade since Mark Zuckerberg founded "thefacebook" while in college on February 4, 2004.
Ten years later, Facebook boasts over 1.2 billion users. One has to ask, is Facebook now the world's largest digital dating site?
Just how many couples are flirting, connecting, hooking up, and even finding love on Facebook?
When I launched Facebook Love Stories on Valentine?s Day last year, I was intrigued to see the variety of ways that people found love on the world's largest social network.
Here are six couples whose love stories will warm your digital heart.
Bonnie and Josh had met 30 years earlier at an advertising agency in New York.
"Working in different departments meant that our professional paths didn't cross much, but we often rode the Fifth Avenue bus home together, as our apartments were in the same neighborhood," said Bonnie. The two married others and lost touch, until Bonnie's son created a Facebook page for her a few years ago.
Bonnie decided to look for old friends and thought about Josh. "I sent him a message asking if he remembered me and he responded within hours, so excited to hear from me," said Bonnie. Within three days they were talking on the phone for hours at a time, and within weeks made a date for dinner. Josh showed up with carrot cake and a dozen bagels and Bonnie was hooked. The two were engaged the following New Year's Eve, and were married August of 2012.
The couple's wedding cake was a delicious Fifth Avenue bus. "In my wildest dreams I'd never have imagined that Facebook would change my life, but it did.  It reconnected me with Josh, and I consider it a miracle," said Bonnie.
Sophie and Trevor were both members of a 'Star Wars' Facebook group when they became friends in 2007. Sophie lived in Leeds, England and Trevor resided in Indiana where he was attending University. Neither were interested in developing a long-distance relationship. The two became fast friends as they shared their mutual love of fan fiction.
After three months, Sophie and Trevor decided to meet in person and selected Berlin as the city for their first date. Later that year, they realized they were falling in love.
Over the next several years, the two commuted between Indiana and England, as their relationship flourished.
Both Sophie and Trevor acknowledge that Facebook played a huge part in keeping them connected, during the time of their long-distance relationship.
In 2012, the two finally got married in New York City and are finally living on the same continent, in each others' arms in the Big Apple.
For about four years, Meca and Anthony were digital friends on Facebook, but they never really had much contact with each other. The two shared a lot of mutual Facebook friends and even attended offline events at the same time twice, but they never actually met in person.
As a divorced woman, Meca started blogging about her dating experiences and posted her stories on Facebook. Anthony silently enjoyed reading about Meca's latest dates and started sending her private messages on Facebook.
"I wanted to know why a girl like her was single," said Anthony. Their romance developed on Facebook chat privately and finally one day they decided to exchange phone numbers.
Meca was very hesitant at first, especially as Anthony was an artist. As an accessory designer, Meca didn't think she wanted to date an abstract painter. "I don?t date artists," she proclaimed. Soon they discovered that they were indeed soul mates.
The two have decided to save the mushy stuff for the privacy of their inbox.
Patience had a secret crush on Sam in high school, but felt that he was out of her league. They never dated and barely acknowledged each other in the halls. During a formal high school dance, after her date had ditched her, Patience was shocked when Sam asked her to dance and pulled her into a random picture.
Fast forward twenty-six years later, where Sam was divorced and teaching college in Israel. Patience was busy with her publishing career in New York and had serial dated for two decades. When Sam noticed her familiar face in the "Suggested Friends" feature, he immediately sent Patience a 'friends' request.
For Patience, it was a no-brainer to be in contact with such a popular guy from high school. She started 'liking' his status updates. Sam picked up the phone and called her. After several months of Skype and Facebook chats, the two fell in love.
Sam asked Patience if he could visit and possibly marry and father her children. All of her girlfriends thought she was crazy, but she knew there was a connection there. In fact, they had a deal. He would come visit and would leave if they thought it was weird. Fortunately, that was not the case. The two are now happily married and are living in New York. Sam still has the photo from their first dance in high school.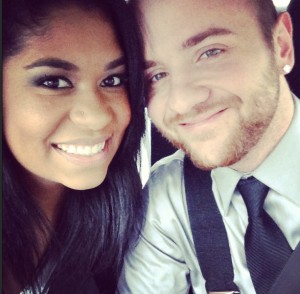 Alexa was hoping to find someone on an online dating site, but was frustrated with the process. Her friends said she'd find someone when she least expected it. That someone was Devin who she met on Facebook.
Devin thought Alexa was cute when he noticed her photo in the 'People You Should Know' feature.
"One day I received a 'friend' request from someone I didn't know named Devin,"  said Alexa. "We had one mutual friend in common, so I thought I might have met him somewhere and just didn't remember. He was the first person in my six years of being on Facebook that I added without knowing in real life," she added.
The rest is history and the two have been inseparable since meeting on Facebook.
Tauna and Jake went down digital memory lane and rekindled their college romance on Facebook.
It all started twenty years ago when Taunia met Jake while in school. The two dated for 2.5 years and then went their separate ways to pursue their career aspirations. "We always knew we were each others' true love," said Taunia.
Twenty years and a lot of life lessons went by. Taunia had gastric bypass surgery in 2008. She got married, established her musical career, and developed an online following, particularly on Facebook.
Tania reconnected with one of Jake's sisters on Facebook. When Jake's sister noticed Tania's relationship status as 'Divorced,' she told her brother. Jake immediately contacted Taunia to reconnect and their romance reignited. Jake proposed to Taunia in a romantic holiday trip in front of the Eifel Tower and the two were married in the summer of 2013.
Have you found love on Facebook?
Julie Spira is an online dating expert, dating coach, and founder of CyberDatingExpert.com. She creates Irresistible Profiles for singles on the dating scene and is Editor-in-Chief of FacebookLoveStories.com.
Julie Spira is America's Top Online Dating Expert. She's an award-winning dating coach who's been helping singles find love online for 25+ years. Follow @JulieSpira on IG.